Stoughton High School students can make nearly anything with high-tech Fab Lab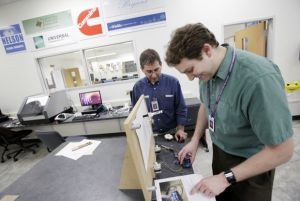 See Original Article :May 26, 2013 6:00 am  •  JUDY NEWMAN | Wisconsin State Journal | This e-mail address is being protected from spambots. You need JavaScript enabled to view it
Students at Stoughton High School already can take classes that teach them how to weld, fix a car, remodel a home, create an architectural blueprint or produce a video.
Starting this fall, they'll have a new option: learning how to make ... almost anything, thanks to the school's new Fab Lab.
And next year, the rest of Stoughton's residents and entrepreneurs will have access to the hands-on classroom.
The Fab Lab (short for fabrication laboratory) is a concept pioneered by Massachusetts Institute of Technology professor Neil Gershenfeld, director of MIT's Center for Bits and Atoms.
Destination Zero Carbon  South Africa Foundation

Coming soon

What most schools don't teach video

Learn about a new "superpower" that isn't being taught in in 90% of US schools.

Starring Bill Gates, Mark Zuckerberg, will.i.am, Chris Bosh, Jack Dorsey, Tony Hsieh, Drew Houston, Gabe Newell, Ruchi Sanghvi, Elena Silenok, Vanessa Hurst, and Hadi Partovi. Directed by Lesley Chilcott.

From

Deputy Minister of Higher Education and Training Mduduzi Manana, who recently launched the Year of the Artisan programme at the King Sabata Dalindyebo FET College in Mthatha, says the programme will create more opportunities for young people.

Manana said there was an artisan shortage in the country. He appealed to the youth to take part in the programme by enrolling in FET colleges.

What is a Theme Day? (Please visit the Theme Day Web Site)


Theme Days – Project Based Collaborative Learning Enhanced through ICTs.

The concept of a Theme Day involves a cross curricular approach to project based blended learning pedagogy. A key element is that it makes provision for a range of additional opportunities for a group of learners to become engaged in the process of developing the activities and resources for the rest of their colleagues in the Grade.